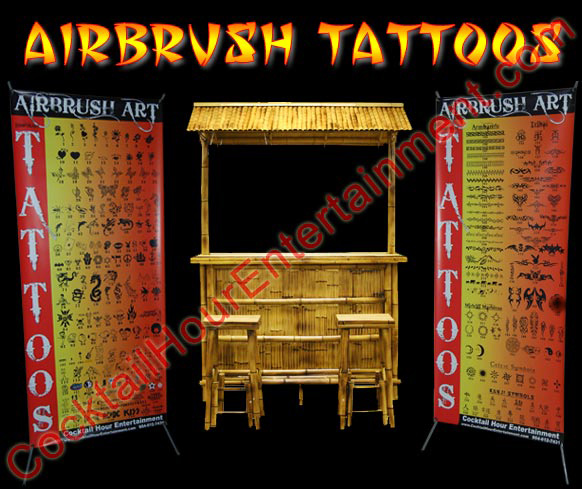 2. Tiki Booth with 2 Bamboo Chairs (Optional)
2 custom made airbrush tattoo color banners displaying hundreds of the hottest airbrush tattoos designs available.
Banners make it easy for your guests to choose from our wide assortment of airbrush tattoos.
We designed our own tattoo banner by 1st ordering all the hottest stencils from all the different companies that sell them, then we took images of all the stencils and created our own custom banners so your guests get to choose from the best selection of airbrush tattoos anywhere!
Many companies don't have professional looking banners, and those that do typically have a premade banner purchased from a company that sells both the stencils and banners together. This is quick and convenient for someone getting into the business, but...
The 1st problem is their displays are limited to the stencils that particular company sells so they have less of a selection since different companys have trademarked different stencil designs.
The second problem is most of the premade banners have an attractive display, but they have a smaller choice of designs. These companies do this so they make more money off tattoo artists buy selling them more banners. We didn't fall into this trap and we spent months ordering and designing our own airbrush tattoo banners! We think your party is worth it!
3. Largest Assortment of Stencil Designs
Quantity & Quality best describes our stencil selection! We thought about all the hottest stencils people ask for and we delivered! We have all the florida sport team logos; Gators, Seminoles, Hurricanes, Miami Heat, Marlins, Panthers, Dolphins, etc.... We have a wide selection of Tribal Tattoos, Tribal Armbands, Celtic Designs, Kanji Symbols, Famous Faces, Hearts, Roses, Butterflies, Skulls, Dragons, and Henna. We even have trademarked logos like Apple Computer, Superman, Batman, and more! For the Bar/Bat Mitzvahs we have several Jewish Star designs, Chai's, the Hand of God, and more!