SnapLab™ Digital Photo Printer
With the SnapLab™ Digital Photo-finishing system from Sony, we can capture, enhance, and print superb digital images at the push of a button.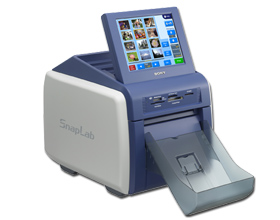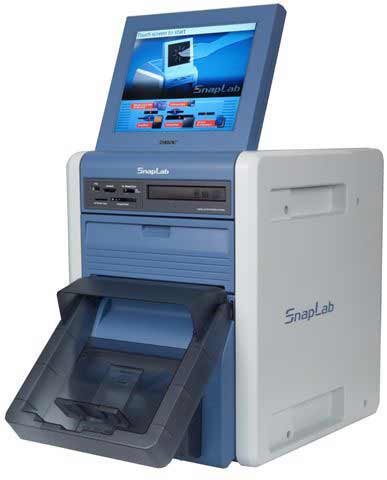 The "Snap Lab" is a new digital photo printer from Sony for commercial use. The LCD you see there is no joke; it's an 8-inch touchscreen with a 640 x 480 dot resolution. It takes rolls of photo paper instead of sheets, so it can print as many as 300 pictures in one go, at a rate of 13 seconds per photo. Nice! No more waiting 2-3 minutes for a single photo to print out at your party.
JPEG, TIFF, and BMP images up to 6400 x 4800 (apx. 30 Mega Pixels) are supported, and the Snap Lab features integrated Memory Stick, CompactFlash, SD, SmartMedia, xD, and USB slots.
Picture perfect lab-quality prints, greeting cards, announcements and more printed right at your event. The Sony® SnapLab™ prints 3.5 X 5, 4 x 6, 5 x 7, or 6 x 8 prints and also features a wide variety of custom sizes, templates, and borders to quickly and easily print all of your favorite photo novelties for your guests at the push of a button! With high-speed dye sublimation processing, 8" color touch LCD screen, and built-in easy-to-use editing tools, we can print high-quality digital images whenever and wherever you need them. Designed for your unique digital image processing needs, the SnapLab™ Digital Photo-finishing system is like having a personal photo-lab at your event.
SPECIFICATIONS:
Media Slot : Memory Stick (1): (Memory Stick®, Memory Stick PRO™, Memory Stick Duo™ and Memory Stick PRO Duo™ media compatible) SD Memory Card (1) MultiMediaCard (1) CompactFlash® (Type I / II) (1) xD-Picture Card (1) SmartMedia (1)
Printing System : Dye Sublimation Thermal Transfer (Superior to Ink & Laser Printers for printing photographs)
# Time/Capacity : 2UPC-C15: 172 prints per roll/ribbon cartridge 2UPC-C14: 200 prints per roll/ribbon cartridge 2UPC-C13: 300 prints per roll/ribbon cartridge
# Type of Use : Paper Feed Method: Roll paper, Automatic loading from paper holder Ink Supply Method: Ink ribbon cartridge
Expansion Slot built into the printer can be used to load a cartridge with predesigned photoshop files with custom borders, graphics, or backgrounds for your party enabling us to print anything you can imagine quickly and easily AND WITHOUT A COMPUTER!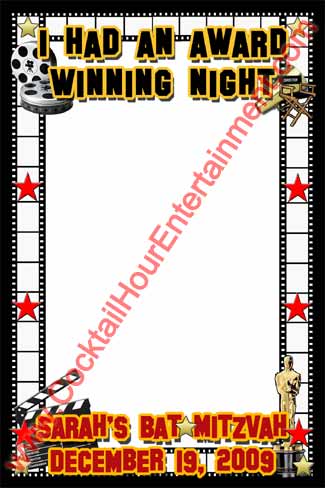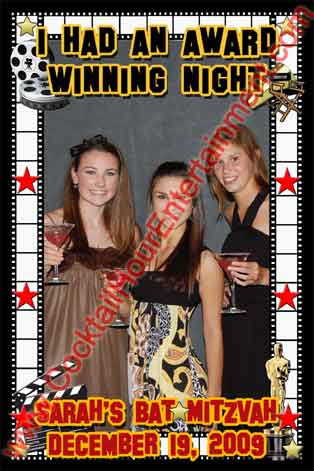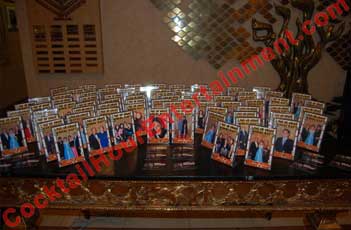 We provide Airbrush Party Favors (AirBrush Shirts, AirBrush Pillows, AirBrush Boxers, AirBrush Hats, etc....), AirBrush Tattoo Artists, Air Hockey Tables, Attitude Hats, Baseball Speed Pitch, Basketball Pop-A-Shot, Bead Factory, Bling Station, Bubble Hockey, Bungee Run, Candy Cart, Caricaturist, Carnival Games, Casino Tables, Coldstone Ice Cream, Cotton Candy, Dance Dance Revolution, Dance Heads (Boogie Bodies/ Pop Noggins), Dippin Dots, Dog Tags & Keychains, Fantasy/Fake I.D. Cards, Flipbook Photos, Flip Flop Shop (Sandal Art), Foosball, Foam Dance Pit, Football Toss, Fun Foods, Giant Board Games, Giant Twister, Glitter Tattoos, Goldfish Racing, Golf Challenge, Green Screen Photos, Guitar Hero, Gyroscope, Hermit Crab Racing, Hollywood Photos (Red Carpet Photos), Hose Hockey, Jukebox Rental, Magazine Covers, Mechanical Bull, Money Machine, Movie Posters, Pinball Machines, Photo Booths, Photo Favors (Photo Novelties & Green Screen), Ping Pong & Ping Pong Table (4-Player), Poker Tables, Pool Table, Pool Table Golf, Popcorn Machine, Prize Wheel, Pucker Powder (Sandy Candy), Rice Jewelry, Rock Band, Rope Ladder Climb, Skill Crane, Sky Dancer, Slot Car Racing, Slotless Car Racing Systems (Microreality), Sno Kones, SnowBoard Simulator, Surfboard Simulator (RoboSurfer), Sumo Suits, Velcro Wall, Video Game Systems, Wax Hands, and much more!